Ukraine Brides Agency is delighted to offer a free opportunity to chat with as many members as possible and fast-track your search for that someone special – every week. The event lasts 60 minutes and you can have 5 minutes of free chat (either text or video/audio) with any lady who you have never chatted previously. This means you can chat freely with up to 12 ladies in the 60 minute event.
These free events are held every Thursday at 9pm Ukraine time.
If you have not taken part in a free speed dating event it is very easy to qualify. You just need to register (free) and complete your profile to 90% or greater, including your photo. It couldn't be easier.
What are our Speed Dating events?
How to use the chat system
Our custom-built video/audio chat system works on any device, anywhere, at any time and you can try this and see why this is such a unique feature in the Ukraine dating and Russian dating spheres, in fact, the entire dating industry.
Video Chat on Any Device
Anywhere, Anytime
Ukraine Brides Agency's new live chatting system works on all modern devices so you and your special someone can stay in touch at all times.
There's no need to install yet another app. Just visit from any device and start chatting!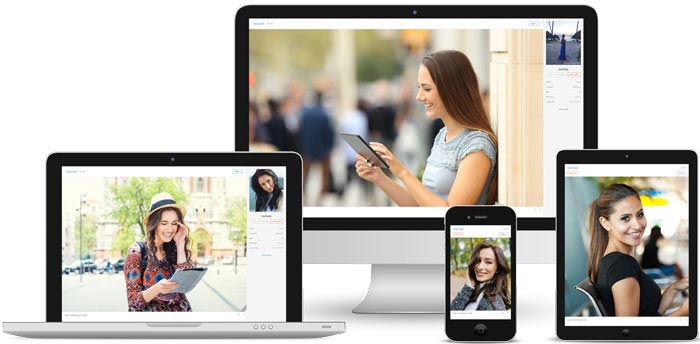 We have received a great deal of positive feedback from members, both men and ladies following earlier events. Something we have noticed is that many members continued to chat after the event had finished and there have been many successful relationships formed from the event.
While the event is free and we encourage everyone to take advantage of it, we do recommend that you add a few credits to your account before the event so that you can continue to chat with a new special lady after the free chat period has ended. If you must leave the chat, get some credits and come back to continue chatting with a particular lady, you may find that another member has started chatting with her as soon as your chat ended. In most cases, you will be able to reconnect with the lady again, but it is much better to be prepared.
We have set some guidelines to make it fair for both the men and the ladies. The ladies want to be able to see who is calling them, which is why you must have your profile completed. We have also set 5-minute timeframes to allow as many speed dates as possible during the event.
Event details and guidelines
The event will last 60 minutes.
You can chat for free with any online lady for 5 minutes (only ladies you have never chatted with previously).
You don't need to have credits to chat – it is free.
You need to be registered (which is free) and have your approved profile 90% or more completed, including your photo (don't leave it until the last minute!).
The free chat will last 5 minutes and your credits will be used if you continue chatting longer than 5 minutes.
If you don't have any credits, the chat will automatically stop after 5 minutes.
You cant exchange your contact details in the free chat – we must abide by IMBRA law. Also, a genuine lady is unlikely to give you her details without knowing you.
Contact us at any time if you have any questions. If you would like to arrange a test chat prior to the event so that you are all set for the event, contact our team. We are available 24/7 and we would love to hear from you.